Increasing up in Indonesia, Farwiza Farhan usually loved the ocean. It really is why she made a decision to research maritime biology. But the much more she figured out, the additional she understood that it was not enough to work in the ocean. She wanted to defend it.
"I see the ocean ecosystem collapsing due to overfishing and weather alter," she says. "I felt powerless and failed to know what to do [so] I decided to go after my master's in environmental management."
This option led her to perform in environmental safety, and it was destiny that brought her back again property to the Leuser Ecosystem in Sumatra, Indonesia — 1 of the previous areas on earth where by species this kind of as tigers, orangutans, elephants and Sumatran rhinoceros however stay in the wild currently. It is also household to more than 300 species of birds, eight of which are endemic to the area.
"When I initially flew in excess of the Leuser Ecosystem, I observed an intact landscape, a contiguous block of lush, assorted vegetation stretched via hills and valleys. The Leuser is actually a majestic landscape — 1 of a kind."
She fell in appreciate. "I experienced my to start with orangutan face in the Leuser Ecosystem," she remembers. "As the child orangutan swung from the branches, seemingly participating in and possessing enjoyable, the mother was observing us. I was moved by the knowledge."
Courtesy of Farwiza Farhan
"Above the a long time," she carries on, "the encounters with wildlife, with people today, and with the ecosystem by itself compounded. My curiosity and interest towards nature have turned into a deep motivation to safeguard this biodiversity."
So, she started performing for a government company tasked to defend it. After the agency dismantled for political motives in the nation, Farhan determined to create the HAkA Foundation.
"The aims [of HAkA] are to shield, conserve and restore the Leuser Ecosystem although at the similar time catalyzing and enabling just economic prosperity for the area," she says.
"Wild spots and wild sites are unusual these times," she carries on. "We consider gold and diamonds are exceptional and as a result precious assets, but wild locations and forests, like the Leuser Ecosystems, are the sort of normal assets that fundamentally deliver us with lifestyle-sustaining solutions."
"The rivers that move via the forest of the Leuser Ecosystem are not way too dissimilar to the blood that flows by way of our veins. It may well audio excessive, but inform me — can any individual dwell with out water?"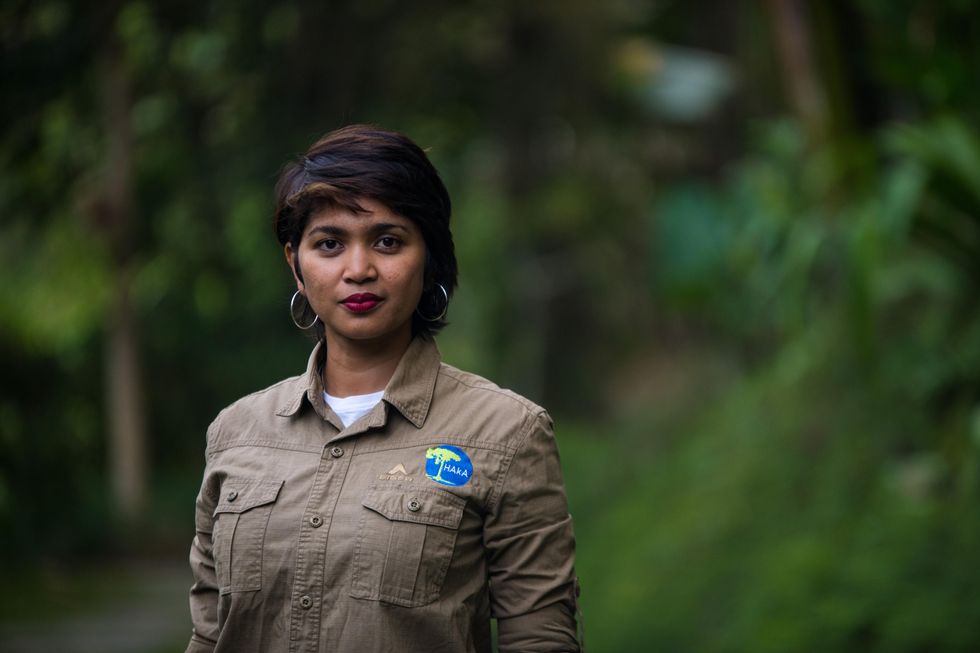 Courtesy of Farwiza Farhan
So considerably, HAkA has completed a good deal of get the job done to defend the area. The business performed a essential role in strengthening rules that provide the palm oil corporations that melt away forests to justice. In reality, their involvement led to an unprecedented, initial-of-its-kind courtroom final decision that fined one enterprise shut to $26 million.
In addition, HAkA assisted thwart harmful infrastructure programs that would have damaged important habitat for the Sumatran elephants and rhinos. They're doing the job to protect against mining destruction by serving to communities create choice livelihoods that don't problems the forests. They've also skilled hundreds of law enforcement and govt rangers to keep track of deforestation, assisting to create the initial females ranger teams in the area.
"We have supported numerous villages to produce area regulation on river and land safety, properly empowering communities to get back ownership in excess of their setting."
She is one of Tory Burch's Empowered Females this calendar year. The donation she receives as a nominee is getting awarded to the Ecosystem Impression Foundation. The modest area foundation is doing the job to protect some of the final remaining habitats of the critically endangered leatherback turtle that life on the west coastline of Sumatra.
"The cash will help the corporation maintain their ranger employed so they can continue preserving the islands, endangered birds and sea turtle habitats," she suggests.
To discover more about Tory Burch and Upworthy's Empowered Girls application take a look at https://www.toryburch.com/empoweredwomen. Do you know an inspiring girl like Farwiza? Nominate her currently!
window.REBELMOUSE_Most affordable_Responsibilities_QUEUE.drive(perform(){
function hideBodyForSponsoredPost(el, currentSection) var sponsoredSections = ["walgreens", "capital one", "capital one csr", "clorox powerful bleach", "clorox clean transforms", "dignity health", "ford foundation", "stand together", "stand together against poverty", "featured"] if (sponsoredSections.contains(currentSection.toLowerCase())) el.model.show = 'none'
purpose hideEmpty( parentId, childId) { var parentDivs = doc.getElementsByClassName(parentId)
if(parentId != undefined && parentId != null) for(var i= i if (event.concentrate on && celebration.target.classList.contains('show-more')) triggerComscorePageView()
)
urlChangeHandler(triggerComscorePageView)
)
window.REBELMOUSE_Lowest_Responsibilities_QUEUE.push(functionality(){
(perform() check outvar a=l1:doc.site.host.exchange(/^www./,""),l2:doc.title,b=[],cfor(c in a)b.thrust(c+"="+encodeURIComponent(a[c]))b=b.be a part of("&")(new Picture).src="https://d26n2uyu5tcx3y.cloudfront.web?a=5ac31c1640c74c36900b97047f570f19"var d=doc.createElement("script")d.kind="text/javascript"d.async=!0var e=document.getElementsByTagName("script")[0]e.parentNode.insertBefore(d,e)d.src="https://z.moatads.com/upworthy105Vonz37/moatcontent.js#"+bcatch(f)attemptvar g= "//pixel.moatads.com/pixel.gif?e=24&d=facts%3Adata%3Adata%3Adata&i=MOATCONTENTABSNIPPET1&ac=1&k="+encodeURIComponent(f)+"&j="+encodeURIComponent(doc.referrer)+"&cs="+(new Date).getTime()(new Image).src=gcatch(h) )()
})
window.REBELMOUSE_Least expensive_Tasks_QUEUE.drive(functionality()
(perform(w,d) (w.kwa = functionality()
[]).push(arguments) ) se = d.createElement('script'), fs = d.scripts[0] se.src="https://cdn.keywee.co/dist/analytics.min.js" fs.parentNode.insertBefore(se,fs) (window, doc))
kwa('initialize',603)
)
window.REBELMOUSE_Lowest_Jobs_QUEUE.drive(function(){
var tags = [ 'https://pymx5.com/scripts/ready.js', 'https://pymx5.com/scripts/ims.js', 'https://pymx5.com/scripts/load_tags.js' ]
purpose l() if (tags.size) var tag = tags.pop() var script = document.createElement('script') script.setAttribute('src', tag) script.onload = l doc.body.appendChild(script) else operate () []).push(arguments)
ia('track', 'PAGE_VIEW')
docReady(operate() ims.startServices() )
l()
})
window.REBELMOUSE_Most affordable_Duties_QUEUE.force(functionality()
permit asd=wrong
)
window.REBELMOUSE_Lowest_Tasks_QUEUE.force(function(){
purpose fbvideoID(body) var myRegexp = /2F(d+)%/g var match = myRegexp.exec(body) return match[1]
var fbIframe = doc.querySelector('iframe[src^="https://www.facebook.com/plugins/video.php?"]') if (fbIframe) fvVidID = fbvideoID(fbIframe.getAttribute('src')) if (fvVidID) fbIframe.insertAdjacentHTML("beforebegin", '
') // fbIframe.parentNode.removeChild(fbIframe)
var videoId = "promoted-video clip" var oldFacebookVideo = doc.getElementById(videoId) if (!oldFacebookVideo) return
var facebookVideoPost = oldFacebookVideo.closest(".widget") if (!facebookVideoPost) return
var facebookVideo = facebookVideoPost.querySelector("#" + videoId) facebookVideo.classList.include("fb-video clip") var firstPost = doc.querySelector(".widget.article-partial")
perform onScriptLoad() FB.init( appId: window.REBELMOUSE_BOOTSTRAP_Knowledge.fbId, variation: window.REBELMOUSE_BOOTSTRAP_Facts.fbAppVersion, status: legitimate, cookie: legitimate, ) FB.XFBML.parse() if(fbIframe) fbIframe.parentNode.removeChild(fbIframe)
perform loadFacebookScript() var existingScript = doc.querySelector('script[src="https://join.fb.web/en_US/sdk.js"') if (!existingScript) var script = doc.createElement("script") script.src = "https://hook up.facebook.net/en_US/sdk.js" doc.head.appendChild(script) script.addEventListener("load", onScriptLoad)
functionality intersectorCallback(online video_player) { var booted = fake var totalSeconds = var interval = null
function impressionCounter() totalSeconds++ console.log("I've been seeing for " + totalSeconds + " seconds")
return perform intersector(entries) var entry = entries[0] if (entry.isIntersecting) if (!booted) booted = legitimate online video_participant.mute() movie_player.participate in()
interval = setInterval(impressionCounter, 1000) else if (interval) console.log("I have stopped seeing at " + totalSeconds + " seconds") clearInterval(interval) interval = null
}
functionality trackVideo(movie_player) var observer = new IntersectionObserver(intersectorCallback(video clip_participant), ) observer.observe(facebookVideo)
functionality onFacebookElementLoaded(msg) if (msg.form === "movie" && msg.id === videoId) trackVideo(msg.instance)
perform onFacebookReady() FB.Celebration.subscribe("xfbml.completely ready", onFacebookElementLoaded) if (window.oldFacebookWaiter) window.oldFacebookWaiter()
if ("FB" in window) onFacebookReady() else window.oldFacebookWaiter = window.fbAsyncInit window.fbAsyncInit = onFacebookReady loadFacebookScript()
})